Inspired by the balance between impressive achievements in aviation technology and the innovations behind remaining undetected, Stealth features a titanium Bolt Action pen treated with a matte black DLC (diamond-like carbon) coating that's extremely thin yet durable. The clip boasts an engraved multi-depth digital camouflage pattern and a radar icon along with a red Cerakote bolt to serve as an accent, reminiscent of our favorite supersonic spy planes. On top of that, we're offering an optional tritium capsule back finial that gives off a safe, radioactive green glow without needing exposure to light.
Available until December 31, 2021
Built on our best-selling Bolt Action Pen
Base material: Titanium
Ultra tough black DLC coating on body and clip
Red Cerakote accent on the bolt
Custom digital camo multi-depth clip engraving
Radar icon deep engraved on clip
Optional "Glow Back" section with inset tritium gas tube
Available in Standard (5.6"), Short (5.1"), and Mini (4.4")
Commemorative metal card included with each pen
Material: Titanium
Diameter: 0.43"
Standard: 5.6" length, 1.3 oz
Short: 5.1" length, 1.2 oz
Mini: 4.4" length, 1.1 oz
The Standard [5.6"] comes with a Pilot G2 0.7 mm refill, the Short [5.1"]comes with a Schmidt EasyFlow 9000 medium refill, and the Mini [4.4"] comes with a Pilot G2 Mini 0.7mm refill. Many of our customers like to use their own personal favorites, however, so we put together a list of compatible refills that work with our Bolt Action pens.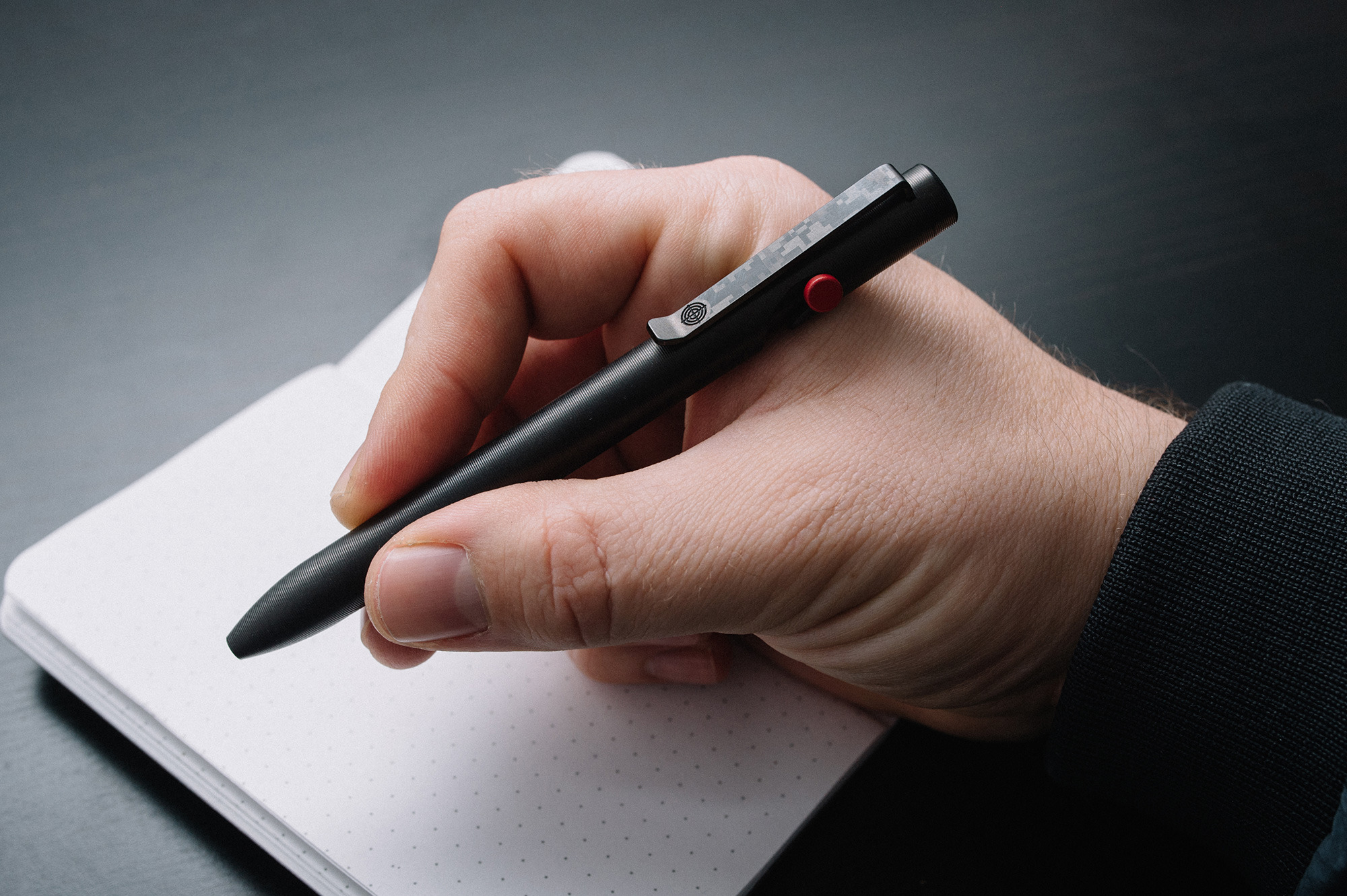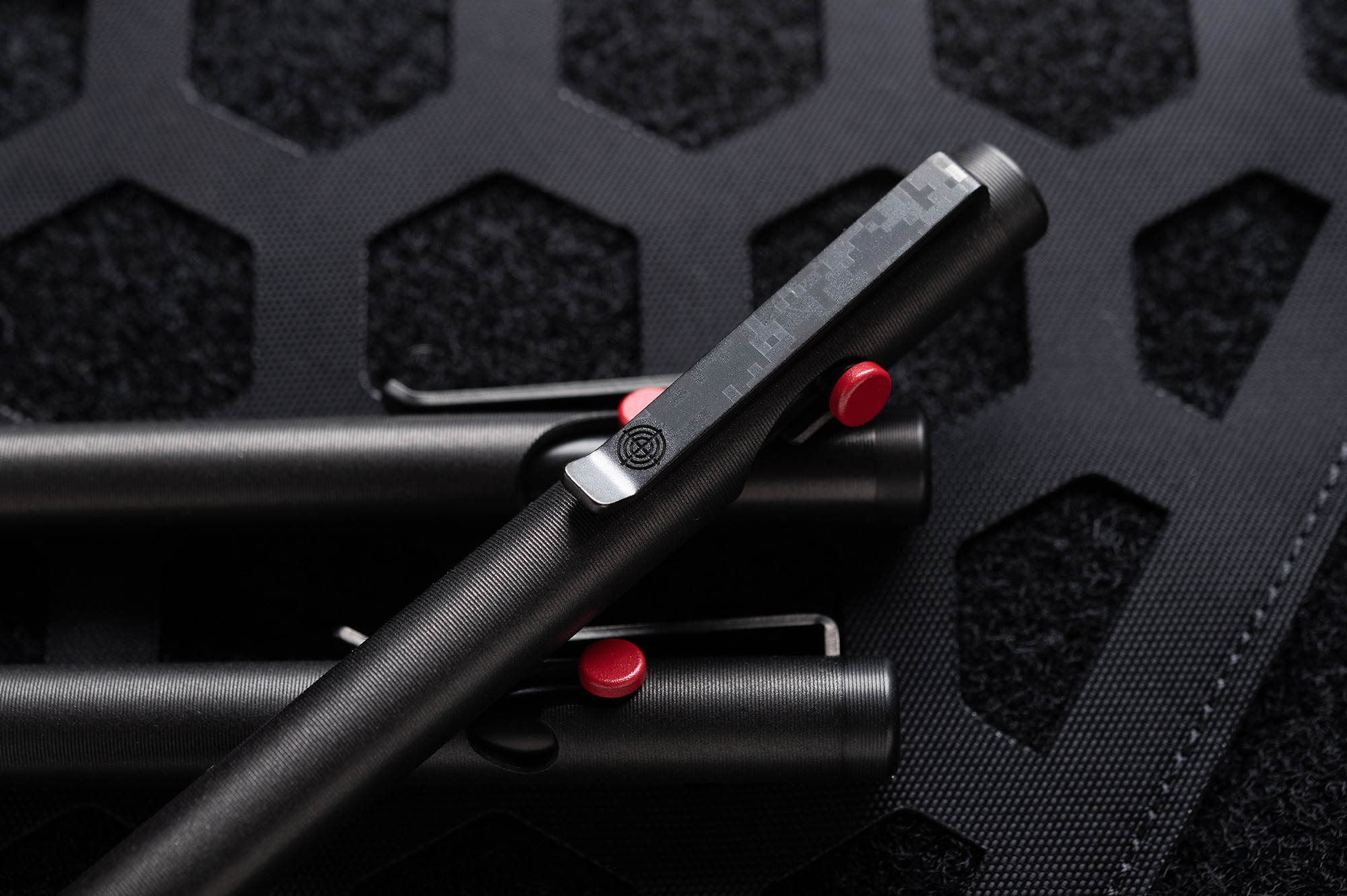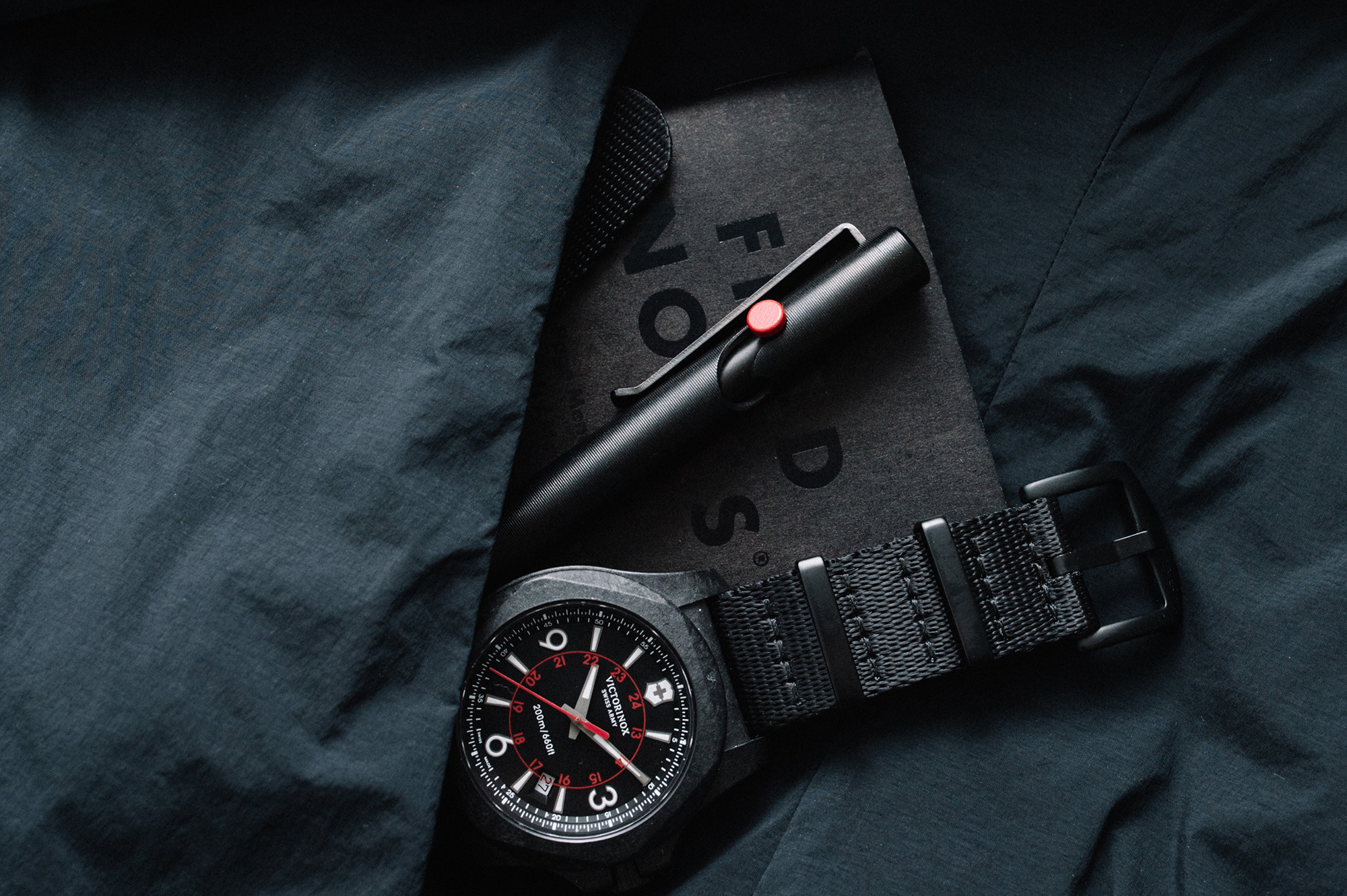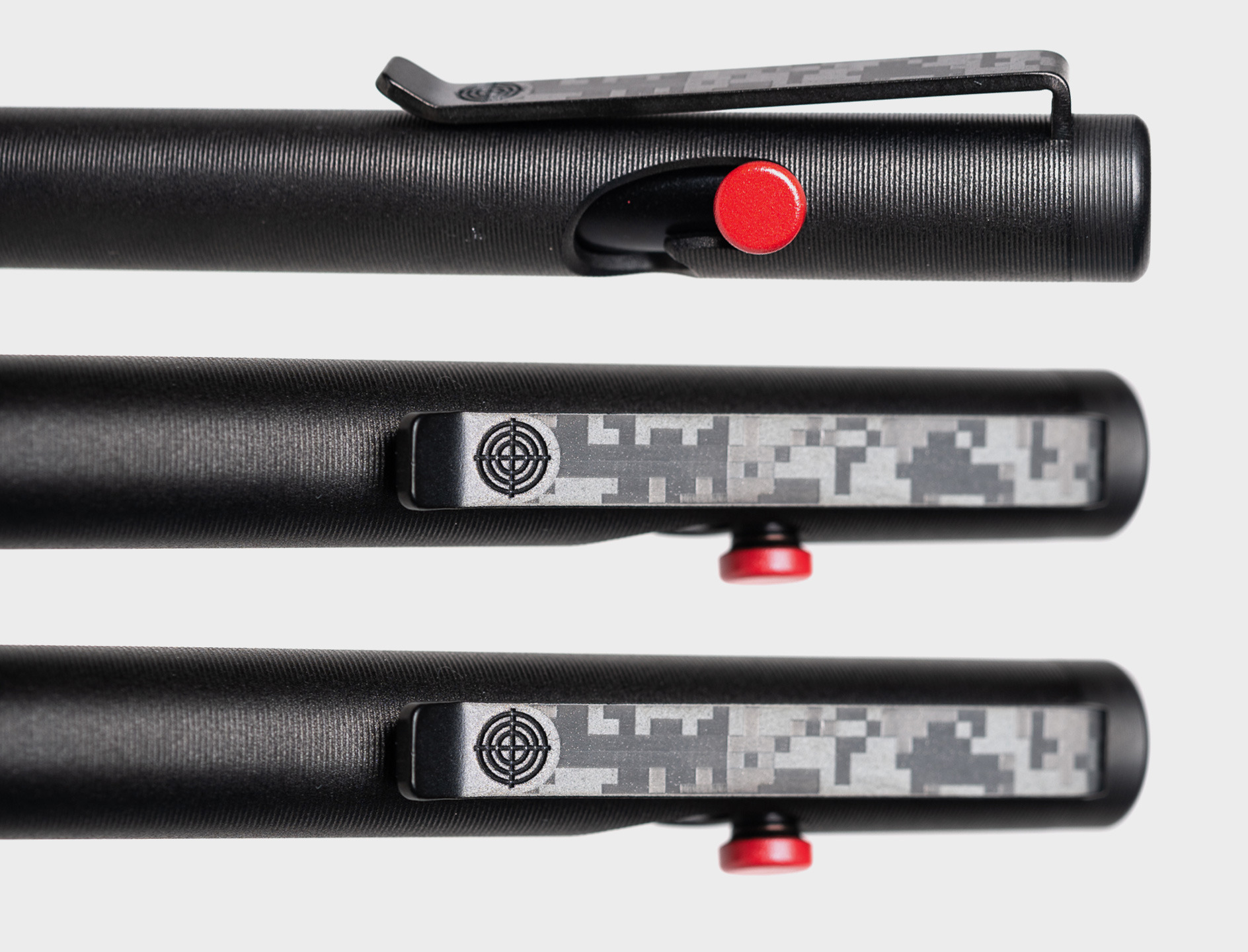 Instead of paint, we opted for a robust DLC (diamond-like carbon) coating which adds a strong protective layer over the titanium body making it an excellent option for pocket carry. The engraved clip also features a DLC coating to give it a similar matte black appearance and, for the red bolt, we used a two-process technique to apply Cerakote to just the top and sides which prevents it from chipping at the high-impact points of contact.
For the first time ever, we're offering an optional tritium back finial. Tritium is a radioactive isotope of hydrogen that gives off a green glow without needing exposure to light. The low-energy beta radiation isn't powerful enough to penetrate the skin and is completely safe for every day carry, commonly used in watchmaking and gun sight applications. See below for an unedited example of the glow.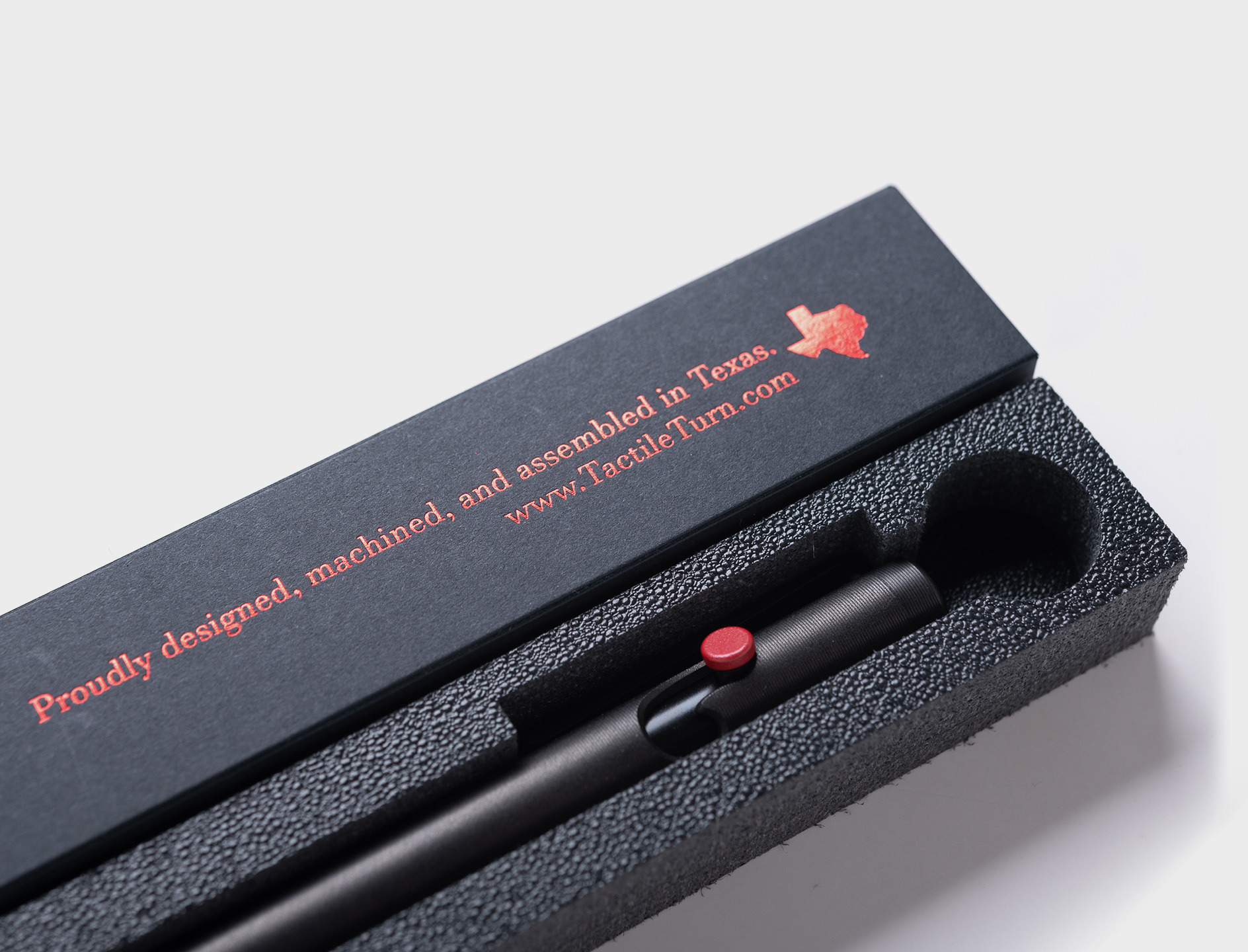 Although a slight departure from previous Seasonal Releases, our goal with the Stealth was to push boundaries and explore new technologies with our same commitment to quality. Between the DLC coating, custom clip engravings, Cerakote accent, and optional tritium upgrade, we hope this unique pen can be appreciated for many generations to come.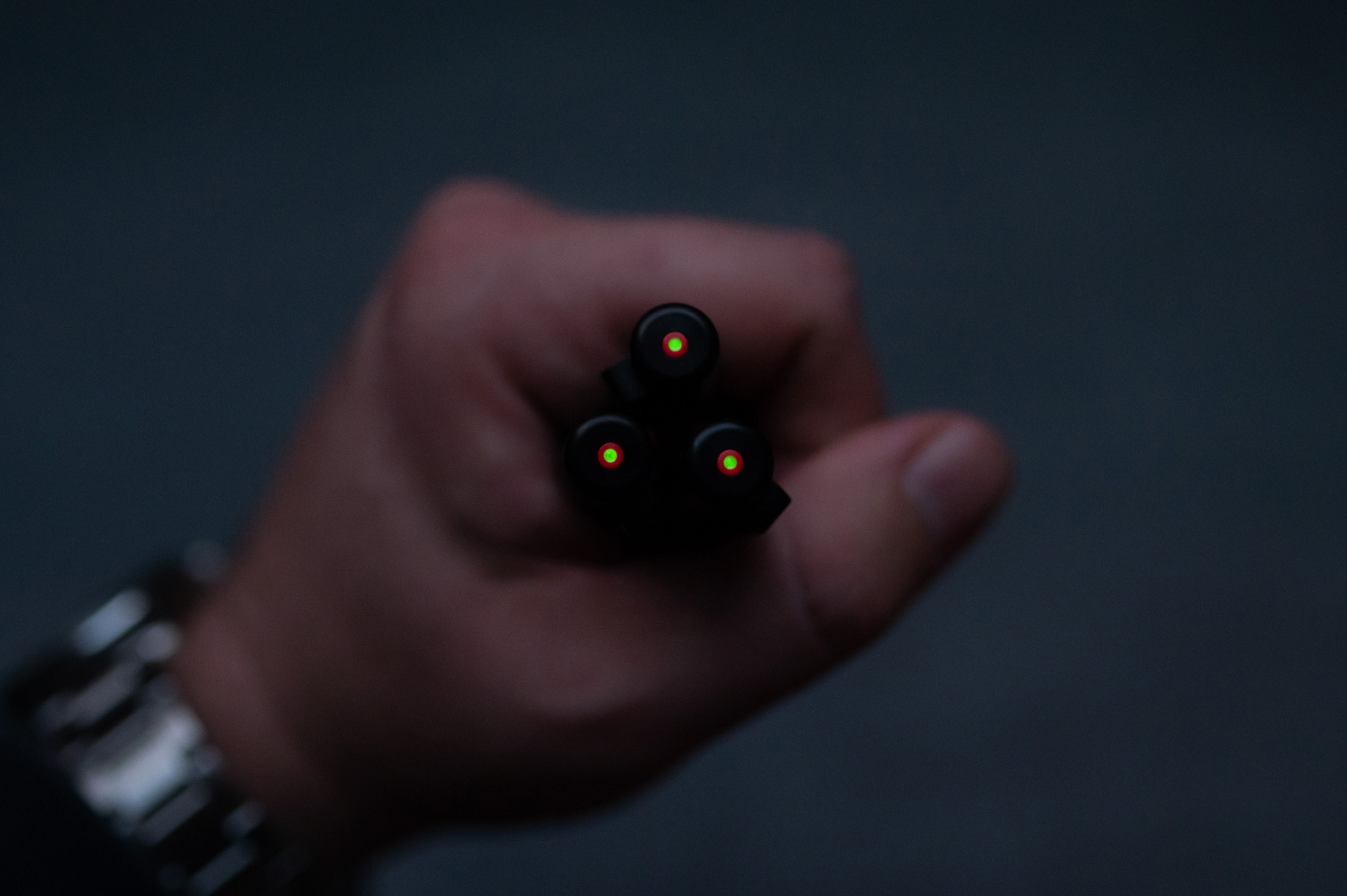 Glowing Tritium Back Finial [+$50]
Schmidt EasyFlow 9000 Medium Refill
Pilot G2 Mini 0.7mm Refill
If you're tuned into our Limited Release drops of exotic treatments and materials, you probably noticed that they tend to sell out pretty fast. Seasonal Releases are going to be much easier to get your hands on because, instead of a set number of pens, they're available for a set period of time. No fast fingers required or having to dip out of that work meeting to try and snag one from your phone in the bathroom. And don't worry, we'll still be doing the traditional Limited drops when we have the material. Seasonal Releases are an addition to our product offerings, not a replacement.
Past Releases: