Introducing the "Slim" Side Click Pen
Launching August 30, 2022 @ Noon Central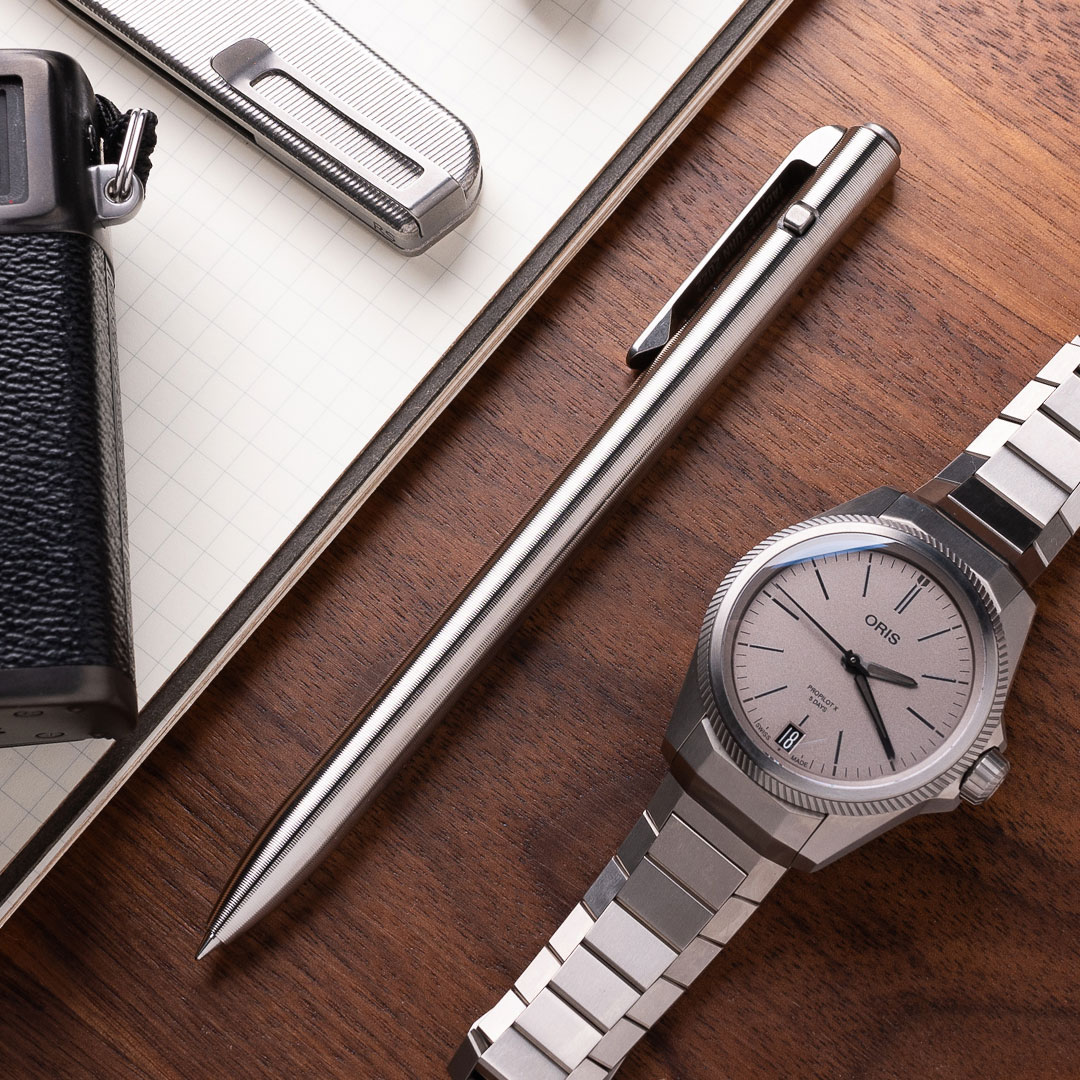 Just over two years after the original Side Click release, we're proud to present the "Slim" Side Click. Many people prefer a slimmer, lighter writing instrument and we wanted to make that happen with our popular Side Click mechanism, similarly to what we did with the Slim Bolt Action.
Wait a minute, why did this take so long? Can't you just hit the shrink button on your fancy CNC machines and pop out a smaller version?
It's not that simple.
To have the same fidget-friendly, addicting mechanism as its thicker counterpart, we had to take extra care with the flat spring to give it the familiar *CLICK* feeling. Getting that right added at least a few months to the project. Plus, we completely redesigned the clip with a sleeker, tapered appearance and dropped it down a single screw for a deeper carry... so there's that.
The Body
Putting the "tactile" in Tactile Turn is our signature groove texture that runs the length of the Slim Side Click body. We've carefully dialed in the grip for a perfect writing experience... something subtle enough so it won't bother you during long writing sessions but has enough "bite" so the pen won't slip from your hands.
Measuring in at 0.365" in diameter (compared to 0.43"), the Slim Side Click is available in 3 body lengths and ink refill styles:
Standard - 5.8" - Pilot G2 sized refills
Short - 5.3" - Parker-style refills
Mini - 4.6" - Pilot G2 Mini sized refills
The Clip
To match the updated slim and sleek body, we made a few changes to the milled clip that's been featured on our Slim Bolt Actions, Side Clicks, and Pencils. A single titanium screw holds the clip in place while a tab hidden in the body keeps it firmly seated. It also rides closer to the top of the pen for a deeper pocket carry – one of our most frequent customer requests.
The changes are subtle but go a long way. If you look under the clip, you'll still see our logo and the pen's production year laser engraved and tumbled. Available as a Titanium Damascus upgrade as soon as we get our hands on some material.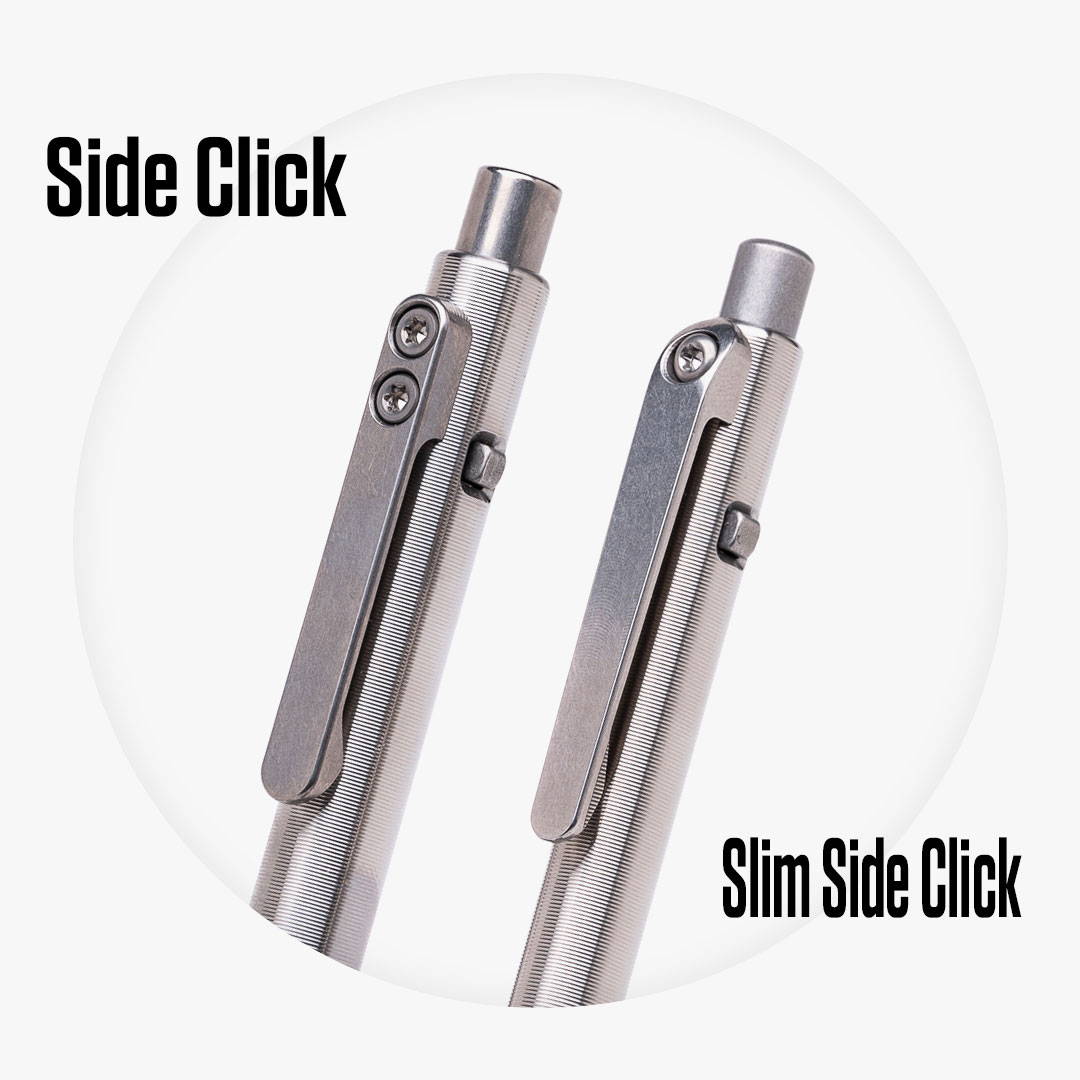 The Materials
Our general catalog, including the Slim Side Click, is made with 4 core metals: Titanium, Bronze, Copper, and Zirconium.
Titanium is the lightest yet still provides the perfect amount of heft. Copper and Bronze are both naturally antimicrobial metals that will develop a patina over with time and use. Zirconium is a rarer metal similar to Titanium that is heat treated to form a durable, dark gray-black oxide coating.
No matter which material you pick, the Slim Side Click is sure to last a lifetime (and then some).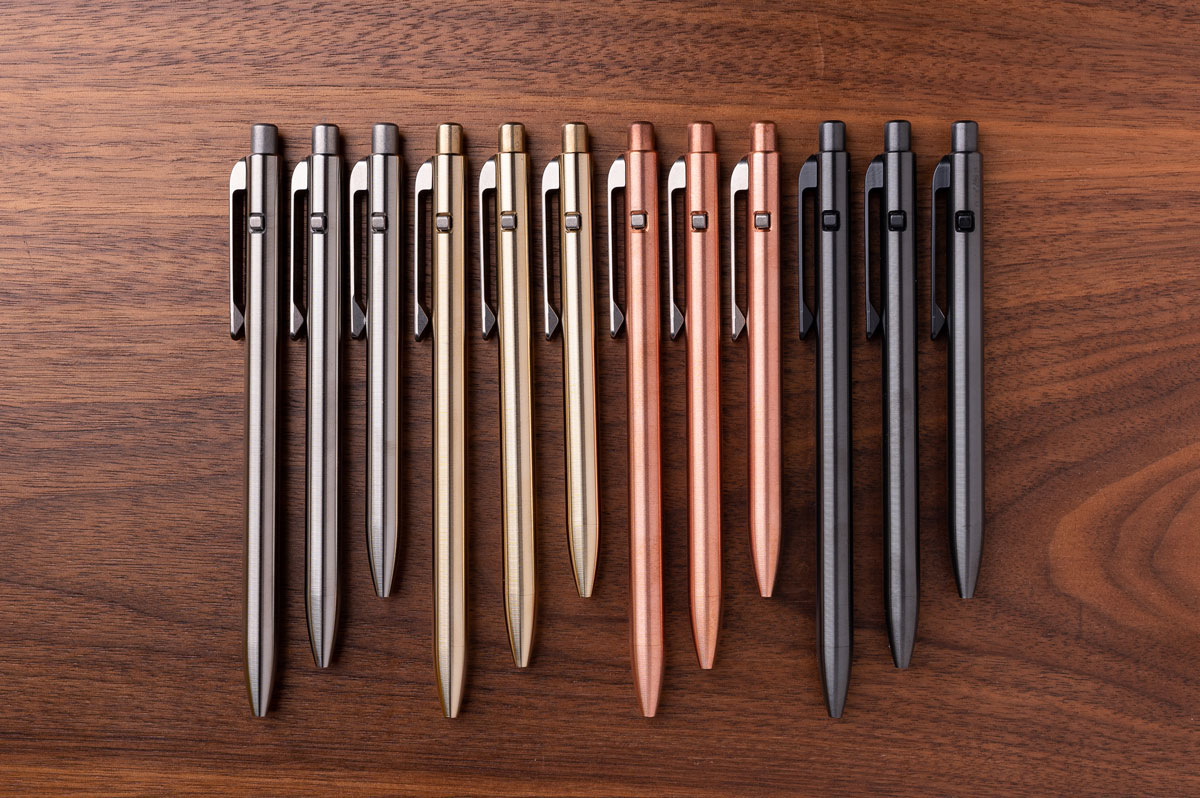 The Specs

Diameter:

0.365"

Lengths:
Standard - 5.8" - Pilot G2 Refill
Short - 5.3" - Schmidt EasyFlow 9000 Refill
Mini - 4.6" - Pilot G2 Mini Refill
Weights:
Titanium - Standard 0.83oz / 23.6g, Short 0.82oz / 23.3g, Mini 0.67oz / 19.1g
Bronze - Standard 1.30oz / 36.8g, Short 1.24oz / 35.3g, Mini 1.02oz / 28.9g
Copper - Standard 1.50oz / 42.4g, Short 1.41oz / 40.0g, Mini 1.22oz / 34.6g


Zirconium

- Standard 1.20oz / 33.2g, Short 1.10oz / 31.6g, Mini 0.90oz / 26.5g

Starting Retail Price:
Titanium - $99
Bronze - $99
Copper - $99


Zirconium

- $249
Also available in our Trailhead Seasonal Release colorway
FOR A LIMITED TIME ONLY
---
The Brand
What started as a one-man operation with a single lathe has grown into a state-of-the-art manufacturer of high-quality machined pens. Headquartered in Dallas, Texas, all of Tactile Turn's pens and parts are designed, machined, assembled, and shipped in-house down to the smallest parts (even the screws!). All of our products come with a Lifetime Warranty because we only use premium materials and stand behind our craftsmanship. If something unexpected goes wrong, get in touch and we'll take care of it. Simple as that.