We'll do our best to curb the Happy Gilmore and Caddyshack references but, with Spring in the air, it's hard not to get excited about spending a day on the links. Fairway is made from a titanium Side Click Pen with a green Cerakote body, yellow and white accents, and a custom milled texture on the clip. Whether you're a scratch golfer or enjoy the occasional putt putt, Fairway is a reminder to get outside and enjoy the journey. As the Zen philosopher, Basho, once wrote, "A flute with no holes is not a flute. A donut with no hole is a Danish."
Available until May 31, 2022
Built on our popular Side Click Pen
Base material: Titanium
Green Cerakote extra durable coating on body
Yellow Cerakote finish on clip, top button, and side button
Custom "dimples" engraving on the clip
Available in Standard (5.8"), Short (5.3"), and Mini (4.6")
Commemorative card included with each pen
Material: Titanium
Diameter: 0.43"
Standard: 5.8" length, 1.2 oz
Short: 5.3" length, 1.1 oz
Mini: 4.6" length, 0.9 oz
The Standard [5.8"] comes with a Pilot G2 0.7 mm refill, the Short [5.3"]comes with a Schmidt EasyFlow 9000 medium refill, and the Mini [4.6"] comes with a Pilot G2 Mini 0.7mm refill. Many of our customers like to use their own favorites, however, and so we put together a list of compatible refills that work with our Side Click pens.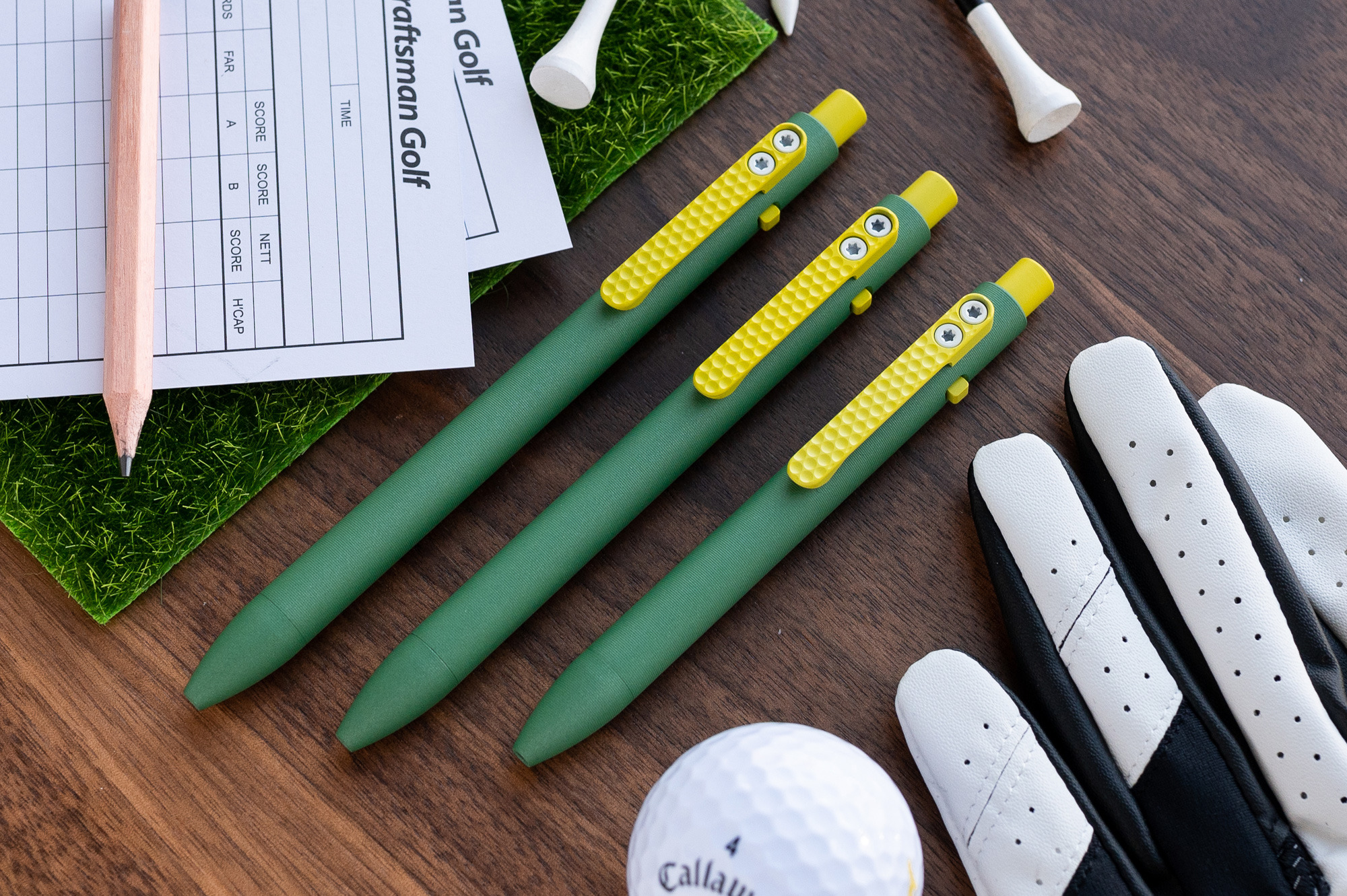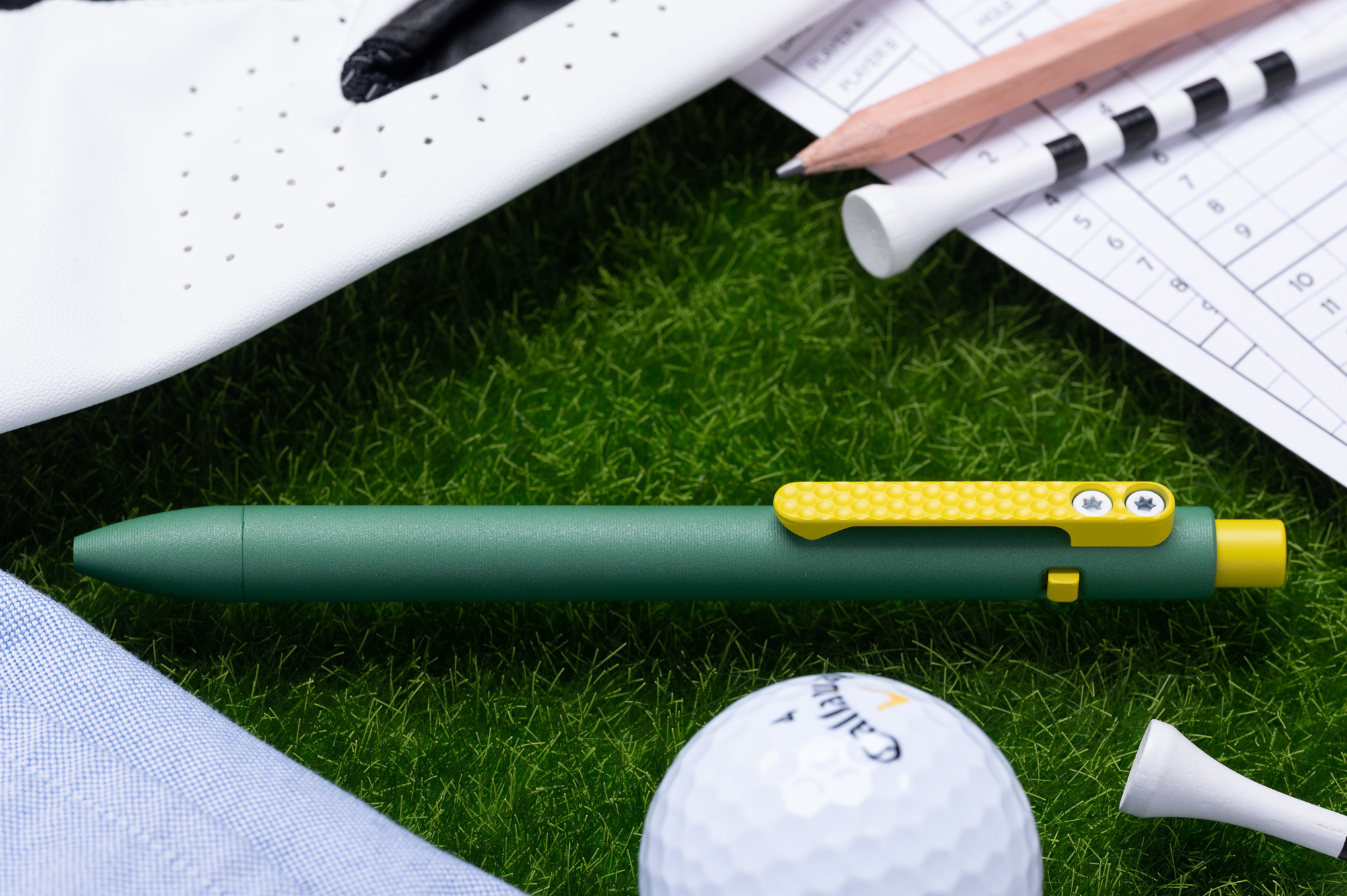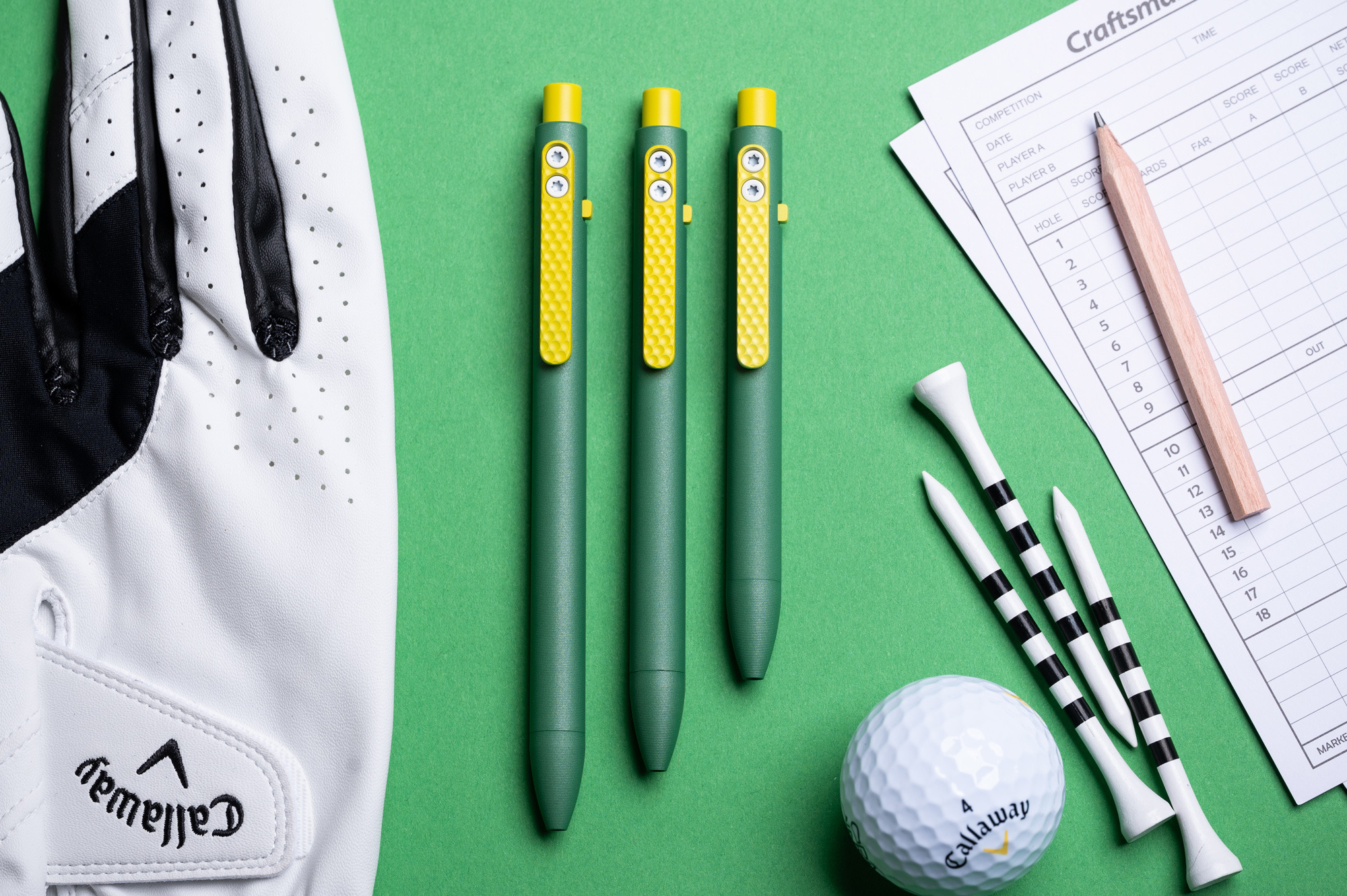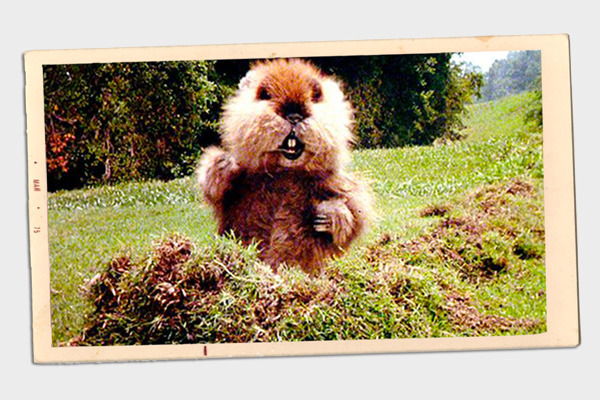 Dimples on a golf ball reduce drag by creating a thin, turbulent layer of air that clings to the ball. We put the same dimples on the Fairway clip which do absolutely nothing for aerodynamics but look great.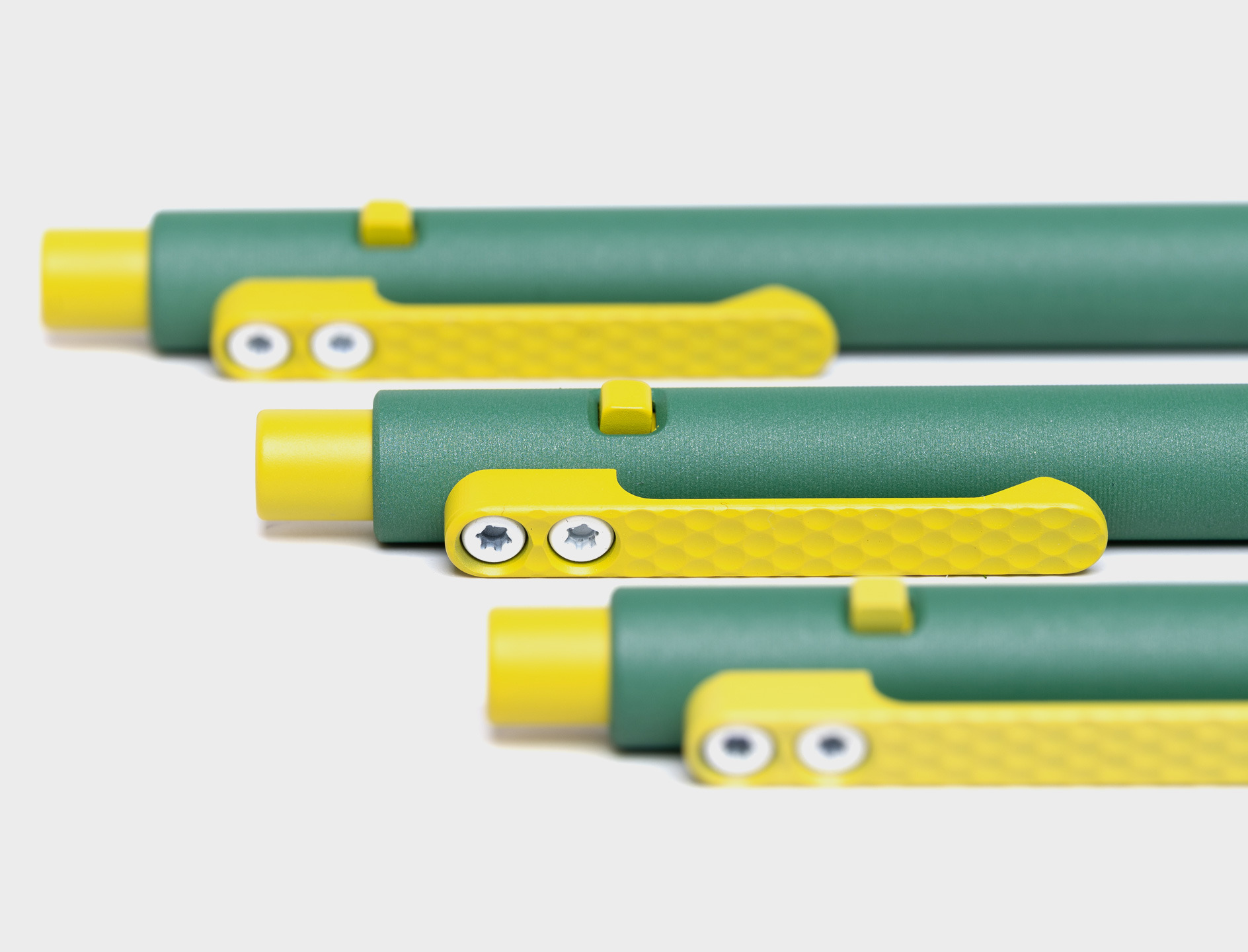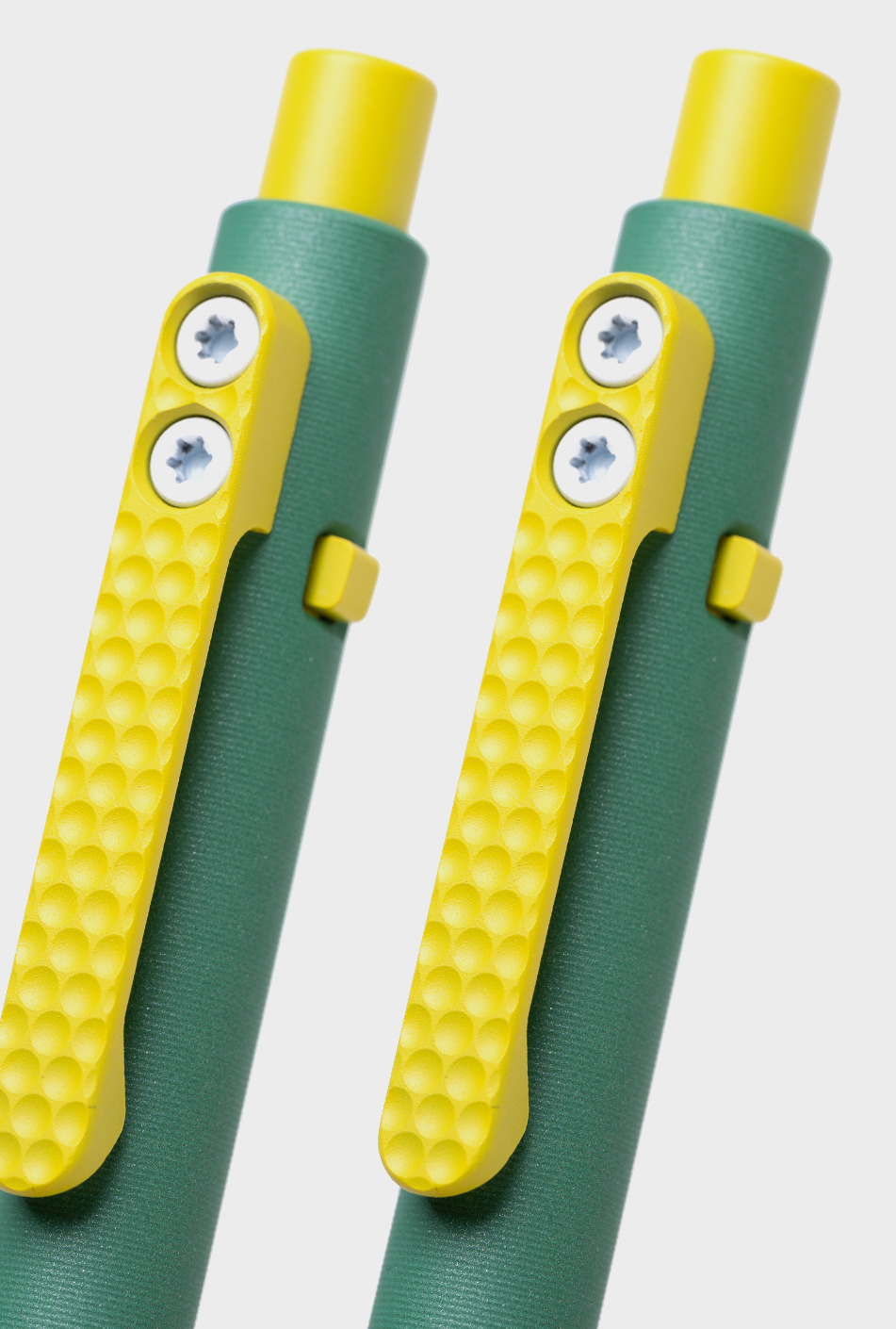 Green, Yellow, & White Cerakote Finishing
Cerakote is a thin coating of ceramic that's applied to the surface of our titanium pen. Once this coating is cured, it provides several technical benefits to the pen. It's abrasion, chemical, temperature and scratch-resistant but not proof. Hard wear will still show on Cerakote but, we love that it gives us the ability to add some color to our titanium pens without adding any serious weight or thickness.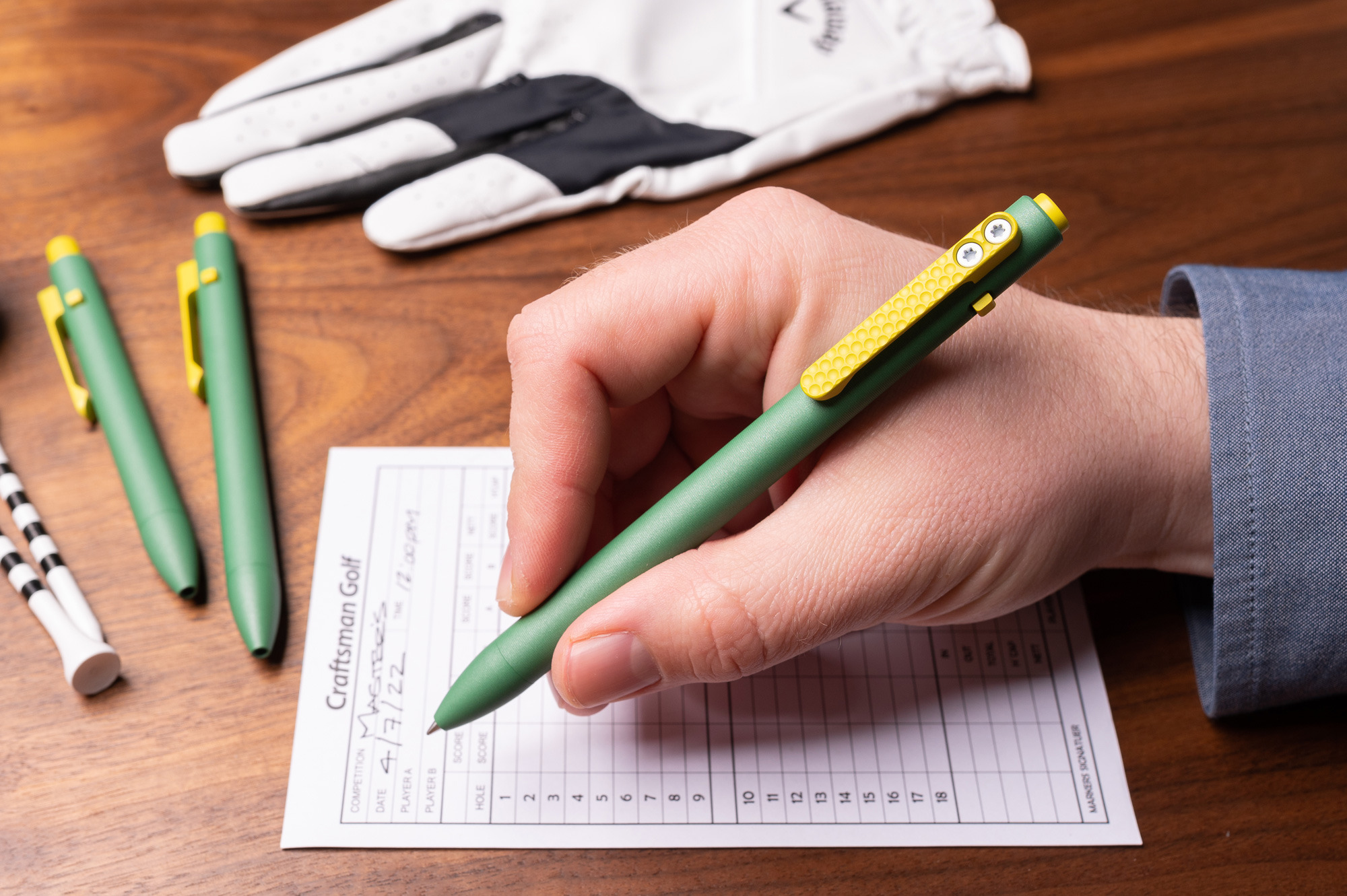 Schmidt EasyFlow 9000 Medium Refill
Pilot G2 Mini 0.7mm Refill
If you're tuned into our Limited Release drops of exotic treatments and materials, you probably noticed that they tend to sell out pretty fast. Seasonal Releases are going to be much easier to get your hands on because, instead of a set number of pens, they're available for a set period of time. No fast fingers required or having to dip out of that work meeting to try and snag one from your phone in the bathroom. And don't worry, we'll still be doing the traditional Limited drops when we have the material. Seasonal Releases are an addition to our product offerings, not a replacement.
Past Releases: