Launching November 2, 2023 @ Noon Central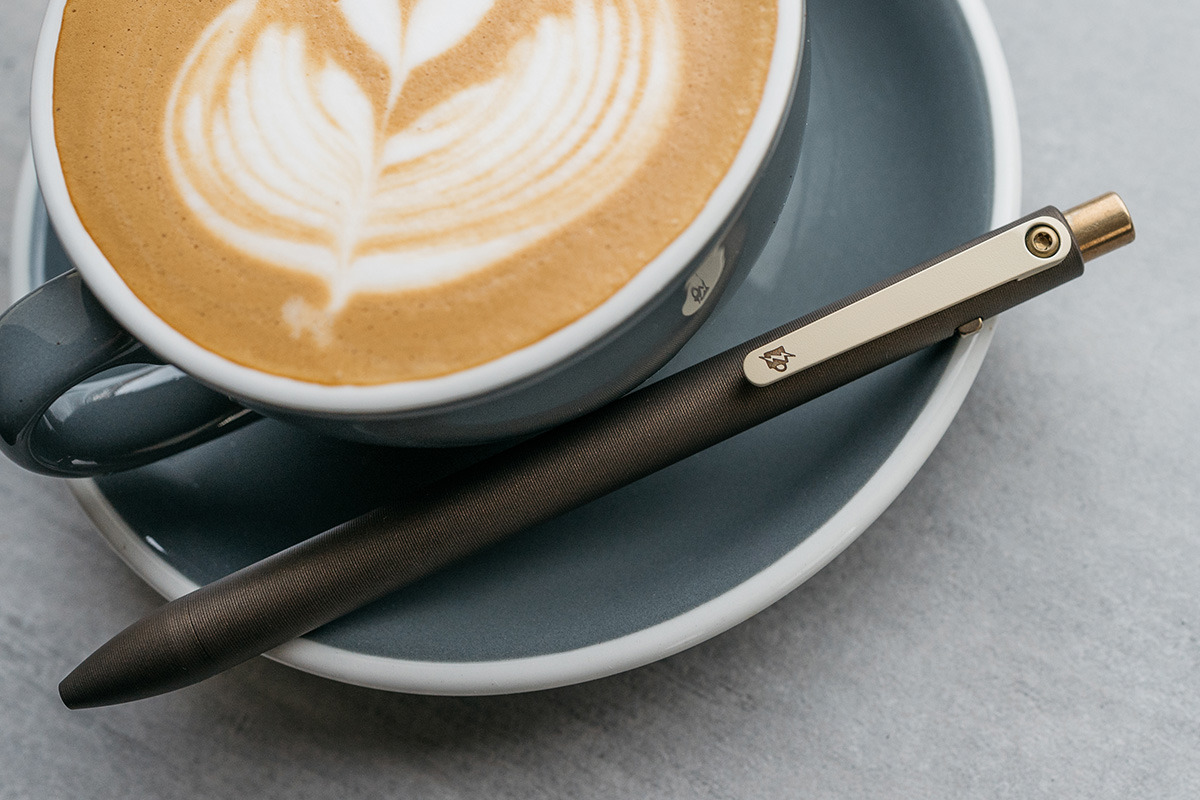 For people like us, it's all bout the small details. How a pen feels in hand, the satisfying click of the mechanism, the smoothness of the ink across the page. Really dialing in each minor thing until perfection is achieved. That same passion can be carried over to making the perfect cup of coffee when factoring in the origin, roast, grind size, water temperature, or espresso yield.
Our latest Seasonal Release, Nitro, pays homage to the ritual and enjoyment of a great cup of coffee. Whether you frequent the local café to journal, read, or take a moment for yourself or make it at home, the warmth and energy coffee brings you is the feeling we wanted to capture as the days get shorter and colder. Built on our Side Click and Slim Side Click models in all three lengths (Standard, Short, and Mini), the Nitro colorway consists of a rich, golden brown Cerakote with golden undertones reminiscent of the perfect crema on top of a morning espresso. The top click button is bronze which will patina with time and use while the side release and screw are anodized titanium treated to match.
A cream-colored clip brings a dash of milk to mind and is finished with a lightning bolt mug icon representing the kick you get from taking time to reflect or the sweet, sweet caffeine boost. Each pen comes with some fun extras like a custom sticker, coaster, and box featuring retro-inspired artwork from NY-based artist, Premo Designs. For an additional cost and to take the theme even further, we're offering a limited run of diner-style mugs and a special batch of Ugandan natural process beans roasted by our friends at Voltage Coffee Project in Decatur, TX while supplies last. More on that later...
Nitro will be available for purchase starting November 2, 2023 until December 31, 2023.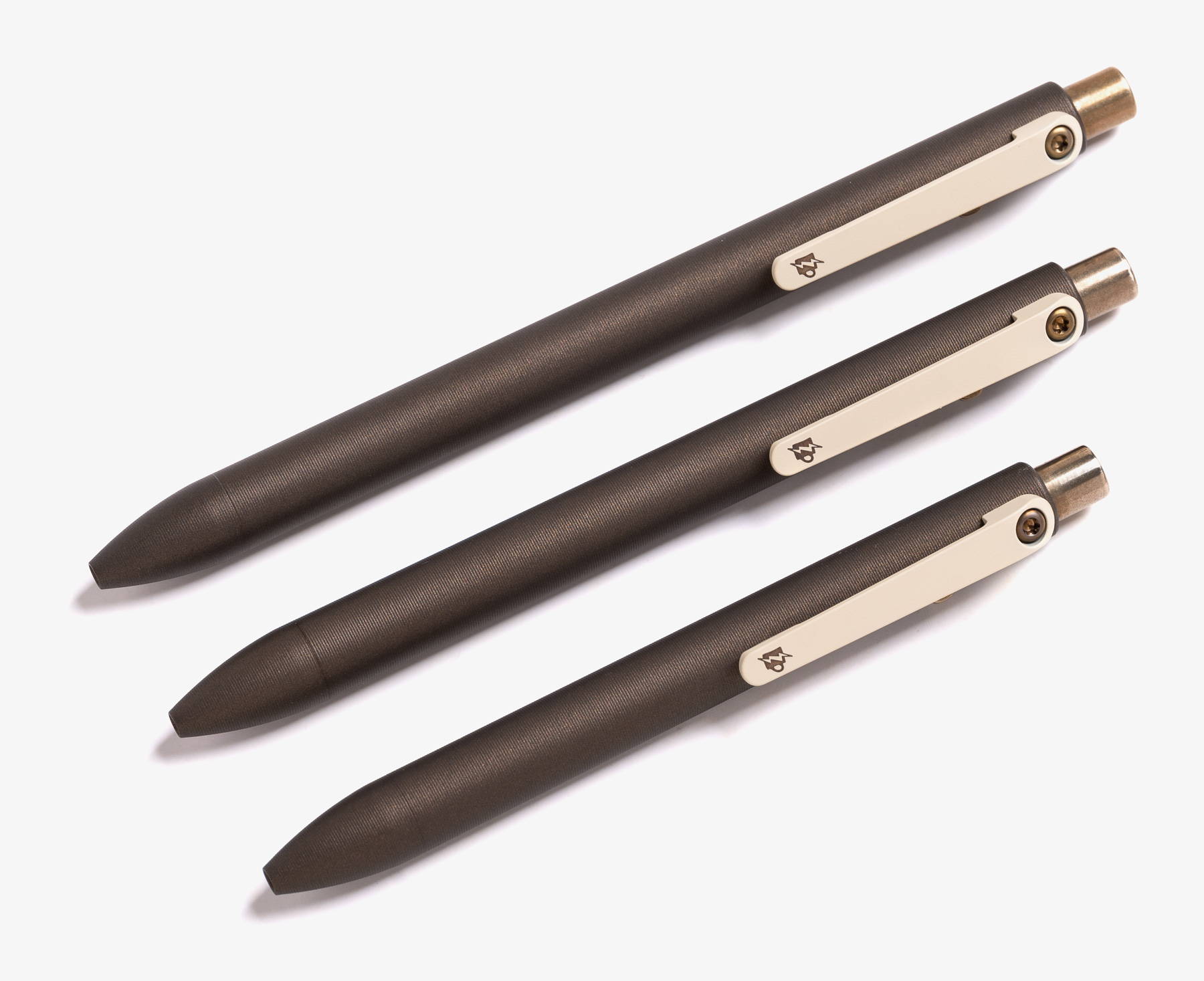 Product Specs
Built on the Bolt Action and Slim Bolt Action Pens

$149 retail price

Titanium base material

Golden brown Cerakote paint on body with undertones

Bronze accents on top button, side release, and clip screw

Lightning Bolt Mug icon engraving on the clip

Available in Standard (5.8"), Short (5.3"), and Mini (4.6")

Custom coaster and sticker include with all orders
Fully Custom Cerakote Finishing
Cerakote is a thin coating of ceramic that we apply to the surface of titanium pens in our own paint shop. It's abrasion, chemical, temperature, and scratch resistance but not proof. Hard wear will still show on Cerakote but we love that it gives us the ability to put colors on our pens without adding any serious weight or thickness.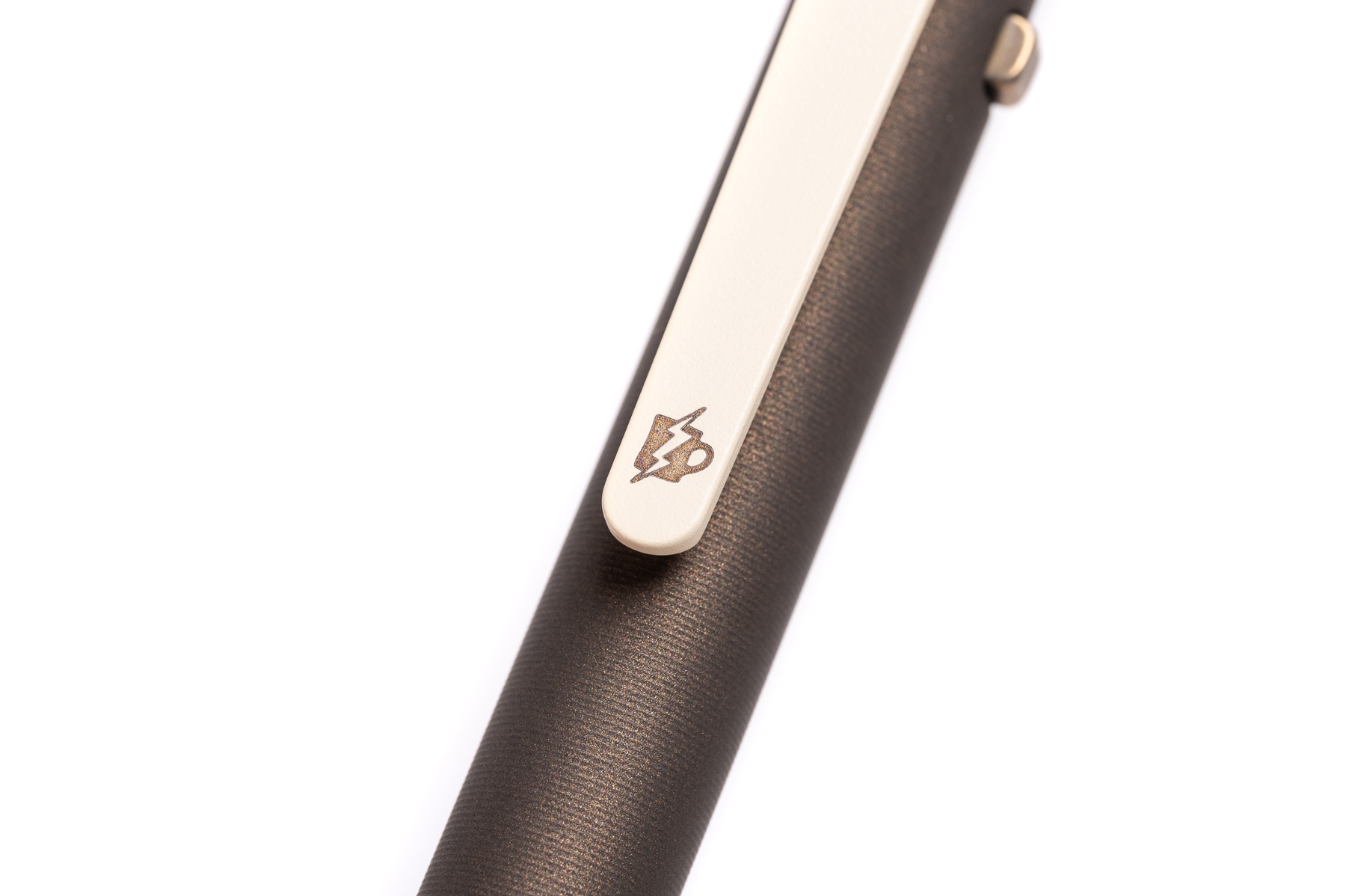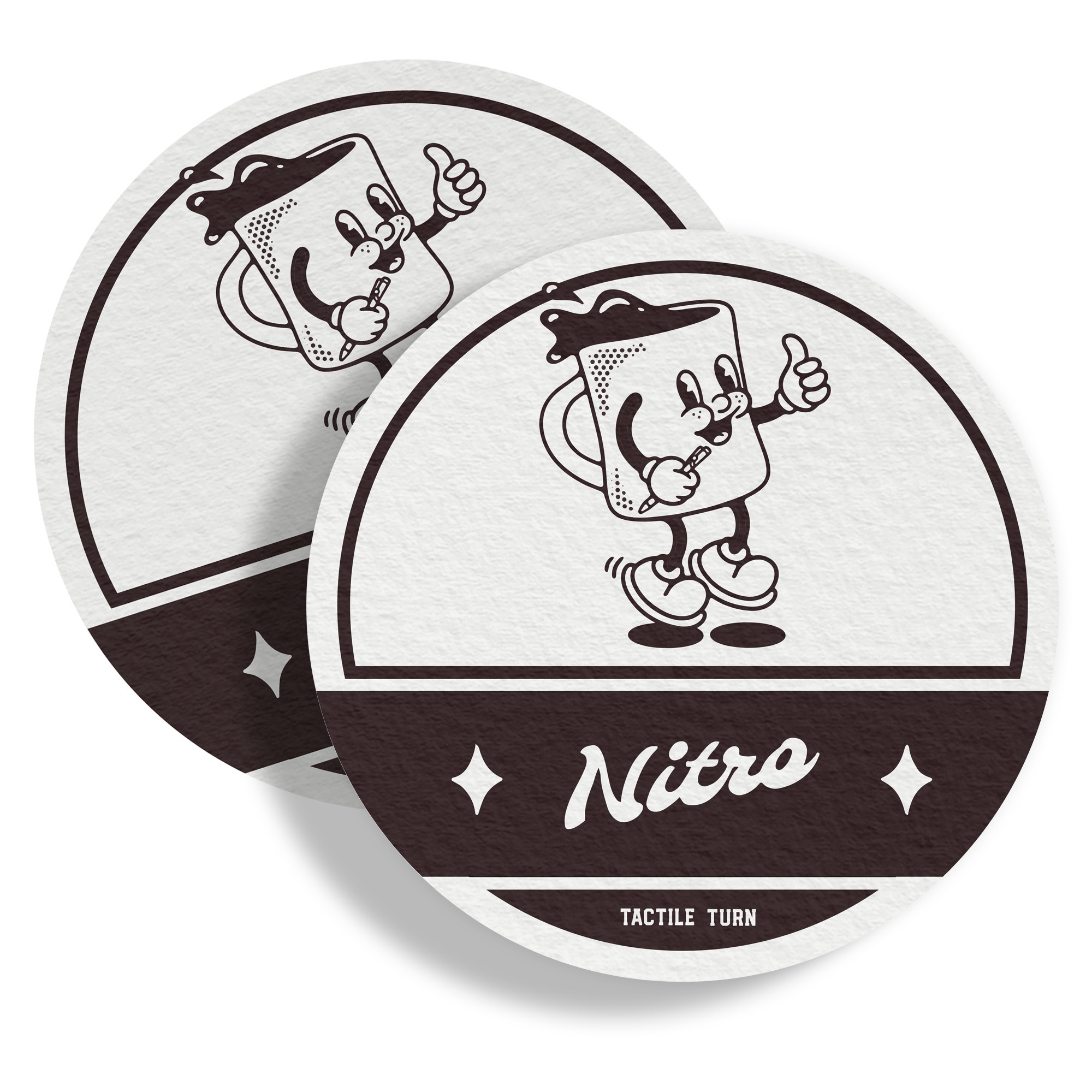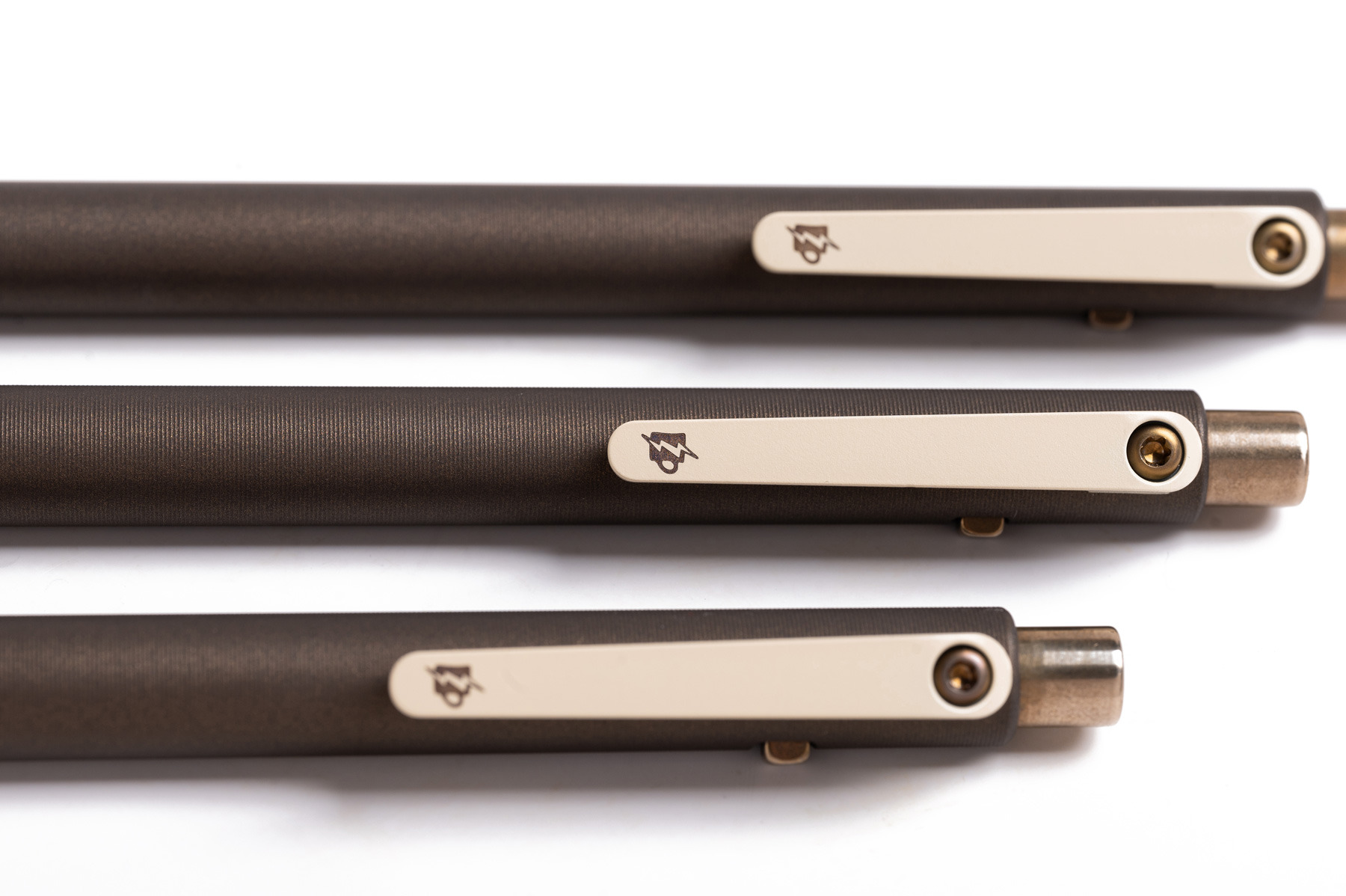 Available for a Limited Time Only
About Tactile Turn
What started as a one-man operation with a single lathe has grown into a state-of-the-art manufacturer of high-quality machined pens. Headquartered in Dallas, Texas, all of Tactile Turn's pens and parts are designed, machined, assembled, and shipped in-house down to the smallest parts (even the screws!). All of our products come with a Lifetime Warranty because we only use premium materials and stand behind our craftsmanship. If something unexpected goes wrong, get in touch and we'll take care of it. Simple as that.